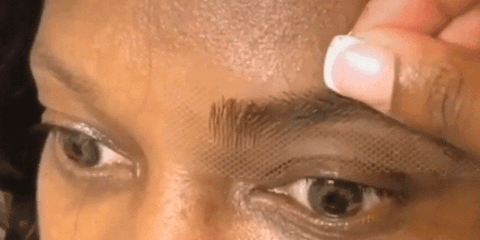 Eye Brow wigs are the new art becoming popular in 2017. This innovation is a win for anyone finding it difficult to fill their brow anytime. But to be honest, this beauty hack is quite interesting.
Introducing Brow wigs which are an arched hair piece that can be glued on the human's brow bone instantly as seen below.
I think this is cute in some way as it will help those that might be finding it hard to draw their brows or even for those suffering from hair loss. I feel so far as you get the proper match for your skin, it will be cool.
How to Apply Eyebrow Wig
Applying this brow extension is pretty easy,
Step 1- Clean your face and remove oil and makeup
Step 2- Mark the starting point and the ending point. Trim if necessary but trim from the tail of the wig
Step 3. Apply lash glue to the brow bone area or to minimize wastage of your glue, place glue on the net side of the wig.
Step 4 Apply on the marked area on your eyebrow
Step 5- Groom the wig
Step 5- Apply a little pressure and you are good to go.
What do you think about this trend? Yes or Na. Let me know what you feel in the comment box below.